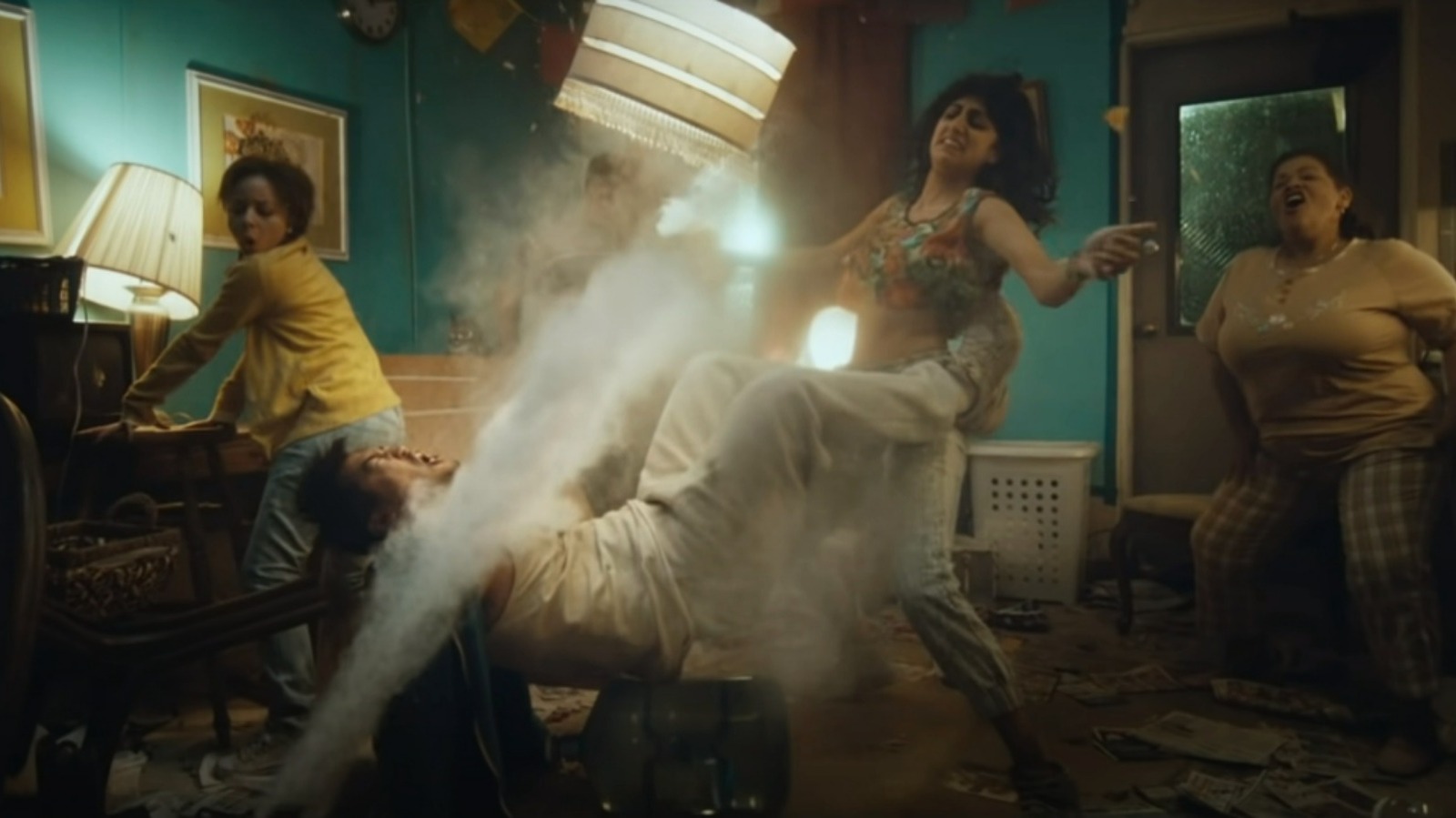 Get ready for everything everywhere at once with Daniels amazing music videos
If one thing has been clarified over the years, it's that there's no one way for filmmakers and storytellers of all persuasions to chart their own Hollywood journeys. In fact, it seems the more idiosyncratic and exciting talent they are, the more unexpected and unique their journey to getting their foot through the door and finding success seems to be. Short films, for example, can strike a chord with both the general public and industry professionals, as "Turning Red" director Domee Shi recently achieved incredible results with the famous "Bao" in 2018. Others, like David Fincher, Spike Jonze, Antoine Fuqua, Jonathan Glazer and Michael Bay, to name a few, took alternative routes to make a name for themselves, debuted and showed their visual and narrative potential with music videos.
But with the release of "Swiss Army Man" in 2016, a certain upstart duo of completely unhinged but absolutely brilliant minds arrived on the scene and practically demanded that the rest of us add their names to this list of filmmakers who debuted with shorts and music videos. If you don't already know, directors Daniel Kwan and Daniel Scheinert go by the combined pseudonym of Daniels, itself a disarmingly provocative nickname that alludes to the particular sense of humor they infuse into their work: a cheerfully dry who certainly pops up in pretty much every interview they ever give.
"Swiss Army Man" notoriously caused walkouts when it premiered at the 2016 Sundance Film Festival, but for those who missed the film's oddly moving and surprisingly empathetic joys, it was a loss. Although Scheinert went to do the equally bizarre "The Death of Dick Long" in the meantime, "Everything Everywhere All At Once" marks the duo's big reunion and SXSW reviews have been nothing short of delightful.
To help set the stage for whatever craziness awaits us with their latest feature film, there's no better time to look back on their music video making days and officially acknowledge what was there in front of us all along: the Daniels are creative, innovative and, dare we say it, visionary talents who are here to stay. Long live the Daniels!
FM Belfast — Underwear
It's perhaps only fitting that the minds that brought you farting corpses and multiversal hijinks to rival Marvel or DC's attempts at similar territory originally made their mark with a music video on… people running down the street in their underwear. What else did you expect? Released by Icelandic pop group FM Belfast, the aptly titled "Underwear" gave the Daniels a chance to bring an endearing DIY approach, which they certainly made the most of. It's hard to draw a perfectly straight line between that and the feast of visual hijinks seemingly on display throughout "Everything Everywhere All At Once," but messing around with the camera speed, timing, stop-motion effects, and all sorts of other tricks manages to show how much the Daniels have benefited from so little. They would eventually take this mentality to the extreme with their low-budget debut album "Swiss Army Man" less than a decade later.
The hundred in the hands — Pigeons
After a grand total of two music videos, the unmistakable qualities of what separates a Daniels production from, well, anyone else already feels like a profound distinction. New York duo The Hundred in the Hands of Eleanore Everdell and Jason Friedman brought in the Daniels to add their manic energy to a music video about a partying woman who might be partying a little too hard. Even before you get to the part where the star of the video starts belching fire and sparks, the amount of match cuts, kinetic camera movements, sudden zooms and speed boosts all feel like good precursors to incredibly similar techniques that they'd continue to use in the future with such success. And then, yeah, there's the whole vomit fire part, the disorienting camera tilts, the clever scene transitions, and various methods of playing with time and space to help make the viewers feeling like those who may have had a drink or three too many.
You'll want to hear more about the Daniels exploring their thought process that led to the creation of this video here – trust me.
Manchester Orchestra — Simple Mathematics
Who would have thought that a horrible car accident could be filmed so well? That seems to have been the mission statement of indie rock band Manchester Orchestra's single "Simple Math." And who but the Daniels could bring such evocative images of everyday aspects to life in a way most people would never have imagined? Of the three we've covered here so far, the end result of this music video perhaps best exemplifies the wide range of out-of-the-box thinking that the directing duo bring to each project. Even otherwise mundane scenes of domestic life around a dinner table take on an abstract, heightened atmosphere, through little more than the way the camera pans over a spilled glass of milk.
Here's a fun bonus for those who like to see how these types of videos are created in the first place: the group has released a behind-the-scenes feature that captures exactly how the Daniels accomplished such an entertaining feat.
Chromeo – When The Night Falls (feat. Solange Knowles)
The music is so good it will soak you up instantly. Yes, if we hadn't reached "strange" territory before, we officially have now. Some nerds might despise the boyish humor, the overtly self-deprecating male fantasies, and the undeniably goofy optics of having baby bumps appear instantly as if by magic. Well I'm here to tell you that I hope I never growing up in a boredom like that. The Daniels seem to be okay with that, as their next project was to team up with Canadian electronic/funk band Chromeo and help them take a turn towards the surreal. With the dreamlike tone suddenly fading at the end of the song and splashing a cold dose of reality over the previous 3 minutes, it feels exactly the kind of premise that would draw such story-driven directors to a music video like this. And if you've ever wondered what the possible inspiration was for certain body modification moments in more famous Daniels-directed music videos like "Turn Down For What," well, you just might have gotten your answer. .
Tenacious D – Fenix ​​Rize
Now I would like to say that with this next music video, we have finally reached the phase of the Daniels' career where they have officially reached the next level…but that would (incorrectly) imply that they would continue to endure a "flop era", and personally, I have my doubts that it will ever happen. But there's no getting around it: Collaborating with Jack Black's Tenacious D is a pretty solid benchmark against which to measure yourself to see if you've been successful or not. And for the Daniels, their work on "Rize of the Fenix" is clearly their most ambitious yet. However, if you ever worried that they might lose sight of the small-scale approach that helped get them here in the first place, you can rest easy. The intentional inclusion of a visible green screen and crew members performing the special effects only makes it even clearer how much a perfect combination between Daniels and Tenacious D really is, a compliment to a sense of humor and of similar self-awareness. At this point, the music video that would be really landing the filmmakers on the map for good was yet to come, but revisiting this one in all its rambling, sloppy, cheesy glory certainly never gets old.
DJ Snake, Lil Jon – Refuse for what
Oh yes, you knew this one was coming. What better way to cap off this little appreciation for the Daniels' music video career than with the one that changed everything? In retrospect, the game-changing video for "Turn Down For What" almost functions as a kind of victory lap for the producing partners, showing off some of their finest and most viral crazy work that proves they've got the finger on the pulse. It doesn't take an expert to see how certain aspects that later appear in "Swiss Army Man," like the magical compass or the dark and hilarious (and near-corporeal?) superhuman abilities of Manny the Corpse (Daniel Radcliffe), first proved doable here, in the most absurd way possible. From any director's origin story, this hugely popular music video putting the Daniels in the spotlight simply feels law for these genre-defying, impossible-to-label directors.
"Everything Everywhere All At Once" tried to live up to the outrageous expectations from the start, back when we here at /Film crowned its trailer as the best of last year. As difficult as it may seem for all of us mere mortals to try to comprehend the level at which the Daniels operate, these select music videos give just a taste of what viewers can expect from their filmography so far. now. Be sure to watch all of their music videos, shorts, and even commercials here while we wait for "Everything Everywhere All At Once" to blow our minds when it drops in limited release tomorrow, March 25, 2022. No pressure, guys!