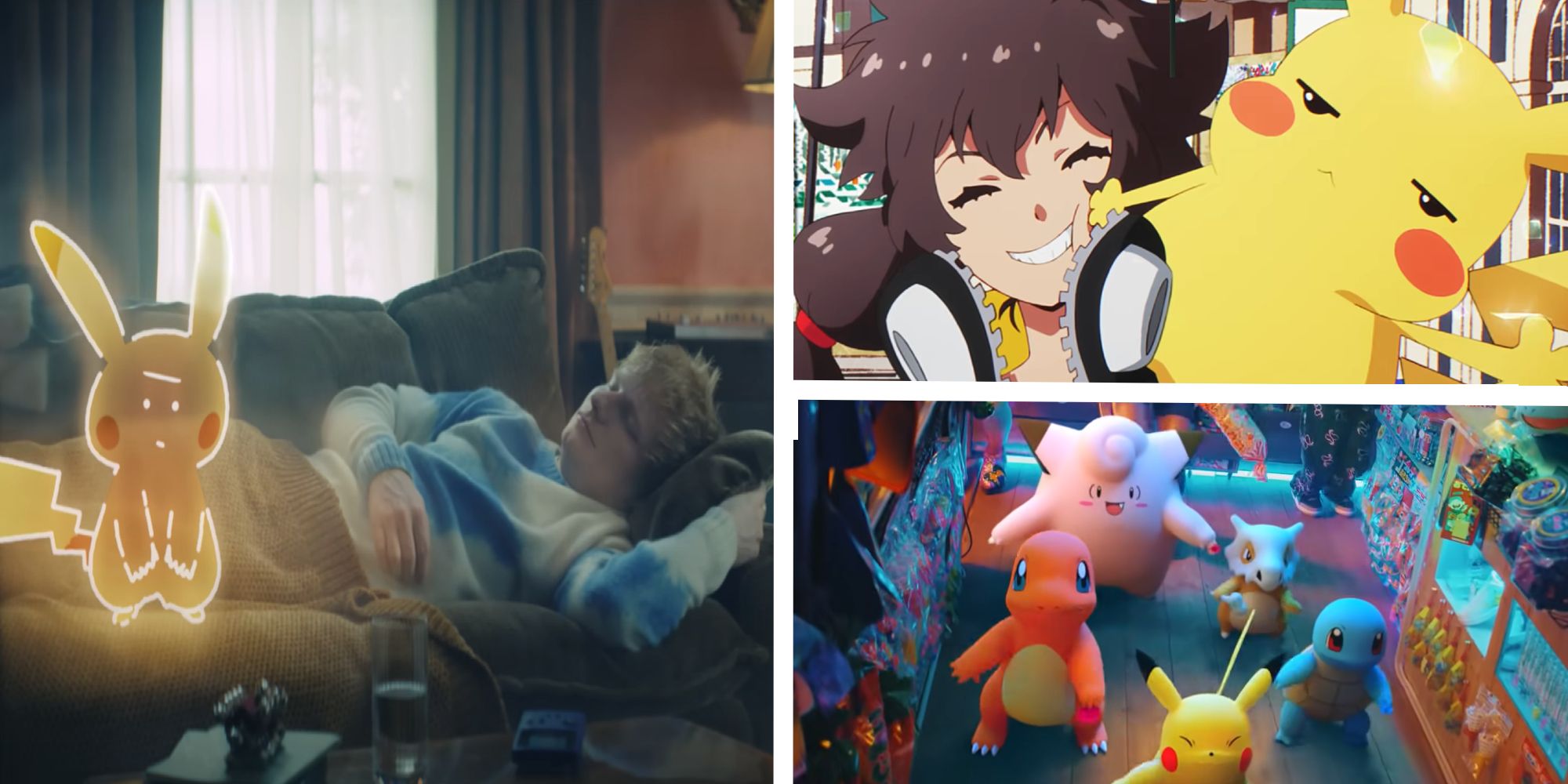 Best Music Videos That Feature Pokemon
Over the years there have been many songs inspired by the Pokemon series. We've got catchy theme songs dating all the way back to 1997 and original music based on movies, films, games and more. Pokémon fans were even treated to official ambient lo-fi beats featuring the natural sounds of the Pokémon world.
Related: The Best Pokemon To Go Trick Or Treat With
In recent years, more and more artists have started creating music based on some of their favorite experiences in the Pokemon universe. Every song made with Pokemon behind it is awesome, and these are some of the best.
10/10

Phases – Jax Jones with Sinead Harnett

Off Pokemon 25: The Album, Phases by Jax Jones featuring Sinead Harnett has an incredibly fun music video to go along with their catchy song. Starting with Jax Jones playing Pokemon on his DS and getting caught by a giant Pikachu, the clip expands to feature multiple oversized Pikachus and a choreographed dance around a giant Pokeball.

Listen to this and you'll be ready to travel from town to town, fight through the tall grass, and travel with your partner Pokémon together.
9/10

I only want to be with you – Post Malone

Another Pokemon 25th anniversary song, this performance features a digital Post Malone surrounded by all manner of Pokemon. Originally part of a longer digital performance, Post Malone covered the song Hootie & the Blowfish as it also celebrated its 25th anniversary. Watching Post Malone travel in his digital bubble through a wide range of ecosystems with all kinds of Pokemon by his side is a treat.
8/10

Believe – Lil Yachty

This relaxing song by Lil Yachty is the perfect beat to listen to as you travel down Route 1 towards Viridian City. With an ethereal feel and dreamy aesthetic, Lil Yachty sets the stage for a wonderful adventure with your partner Pokémon.

This song from the Pokemon 25th Anniversary album includes a few lines with classic Pokemon friends like Charmander, Jigglypuff, and Pikachu.
7/10

Ed Sheeran – Celestial

Ed Sheeran's dreamy single, Celestial, wakes the singer up with a Pokémon daydream. With his GameBoy and super fun cartoon transitions throughout his day, Ed Sheeran sings along to get through the day with help from his Pokemon friends.

Related: Pokemon Characters With Interesting Backstories

Celestial is an upbeat and uplifting song with tons of heart for Pokemon fans of all ages. There's even a cool animated section where Sheeran takes Ash's place in the climactic battle between Mew and Mewtwo during the events of Pokemon: The First Movie.
6/10

Take It Home – Mabel

Mabel's Take It Home was featured on the Pokemon 25 album, with the original version appearing on Pokemon 25: The Red EP and a remixed version by ZHU on Pokemon 25: The Blue EP.

Mabel chases a Jigglypuff through the halls of a hotel, encountering a Pikachu and what appears to be a beautiful dream. This catchy song is so good that Jigglypuff doesn't even try to outshine Mable for the entire clip.
5/10

Reconnect – Yaffle Feat. Daichi Yamamoto & AAAMYYY

Reconnect by Yaffle with Daichi Yamamoto & AAAMYYY is packed with tons of really cool references and throwbacks for Pokemon fans. The song opens to classic Pokemon Red and Blue battle music and has retro sound effects scattered throughout the song.

Related: Pokemon: Every Rival, Ranked

The music video even features a dancing Pikachu and his friends, including Snorlax, Cubone, Charmander, Squirtle, and Clefairy.
4/10

Girl game – Louane

A playful take on the classic Game Boy system, Louane's Game Girl is a great song about togetherness. Game Girl features French and English lyrics and has strong 90s vibes with her outfits and music video set design. With plenty of Pokémon images and giant Pikachu statues in the dark hallways, Louane's catchy song is a great choice for the Pokemon 25 album.
3/10

Continue – Kygo & Rita Ora

This original song from Kygo's Detective Pikachu movie features singer and actress Rita Ora on vocals and in the music video. Ora also played Dr. Ann Laurent in the film. With lyrics about dealing with loss and healing it, Carry On is a great addition to any Pokemon fan's movie and music collection. The music video features clips from Detective Pikachu as well as original shots of Ora in Ryme City.
2/10

Electric – Katy Perry

Electric by Katy Perry is a relatable and catchy song about growing up and exploring the unknown. Alongside her trusty Pikachu, Katy sings a powerful pop ballad about finding strength within herself as she travels back in time to her first performance. The clip features a young Katy Perry, who is just starting to do small shows with her guitar, and a little Pichu by her side. Katy gives off strong Jessie vibes with her costumes hidden in plain sight during her young self show.
1/10

Pokemon Gotcha! – Chicken Hump

This absolutely dazzling clip of Japanese rock band Bump of Chicken from their song Acacia has been released to celebrate the release of the Crown Tundra DLC for Pokemon Sword and Shield. With animation by Bones, Gotcha takes the viewer on a journey through Pokémon history, showing tons of Pokémon and their trainers battling, exploring, and learning together.

With so many small references in the video, it's hard to keep track of everything in one viewing.

Next: Fun Pokemon Types We Want To See