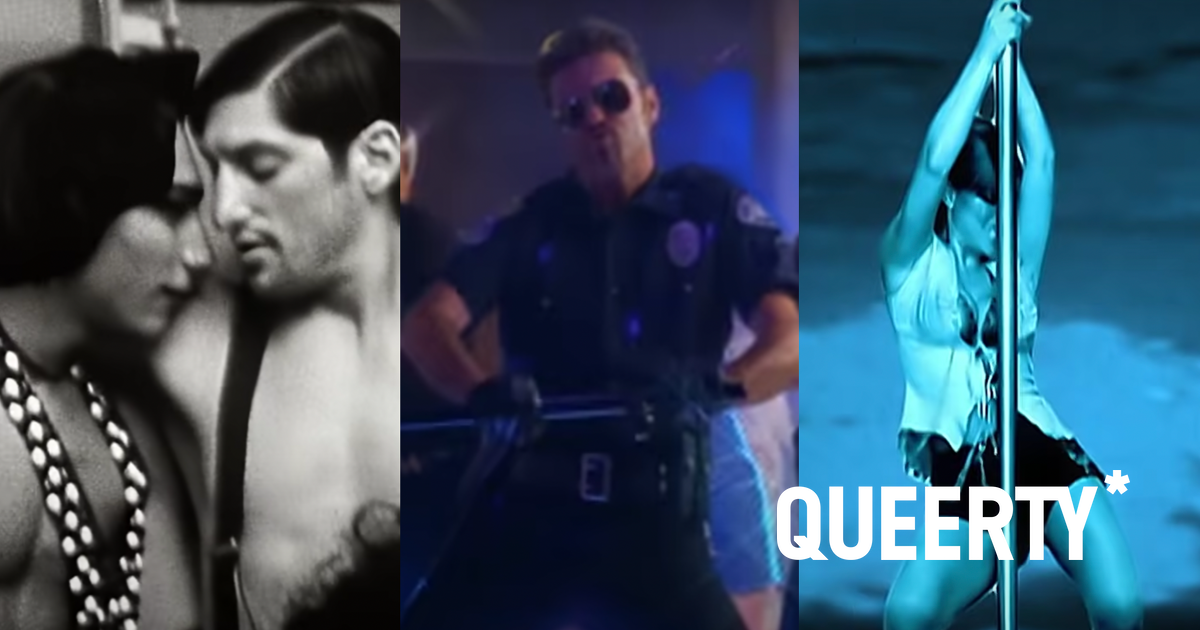 6 Queer Icon Clips That Were "Too Hot" Over 20 Years Ago, But Look Tame Today / Queerty
All is relative. Although very little seems to shock audiences today, there was a time when certain music videos were deemed "too hot" and had to be edited or even censored lest they damn innocent and unsuspecting viewers. More often than not, the offending videos alluded to or depicted some sort of same-sex relationship.
Scroll down for 6 music videos from queer icons who were considered "too hot" when first released over 20 years ago, but seem tame today…
Queen's "body language"
Queen's "Body Language" made history when it became the very first music video to be banned from MTV in 1982 for its homoerotic undertones and nudity, despite all the band members being fully clothed. Nonetheless, the song was still a huge hit, receiving numerous radio broadcasts and peaking at #11 on the chart. Billboard Hot 100.
George Michael channeled Freddy Mercury in this 1998 music video which caused quite a bit of gossip for its racy content and ultimately resulted in Michael being slapped with a $10 million lawsuit by Marcelo Rodriguez, the undercover cop who arrested him earlier that year for lewd contact. . It featured public sex scenes stylized as surveillance footage and intercut with footage of Michael, dressed as an LAPD officer, performing in the men's restroom. Rodriguez claimed the video "made fun" of him and caused him "emotional distress". The court later determined that as a public official, he could not legally recover damages from Michael.
The problematic Russian pop duo caused international panic in 2002 when they appeared as schoolgirls who just wanted to kiss in the rain but couldn't seem to escape the critical stares of onlookers. The music video was a huge worldwide hit despite receiving a lot of criticism for its portrayal of underage lesbianism, even though none of the singers actually identified as queer.
"Crazy Cool" by Paula Abdul
MTV refused to air the music video for the second single from Paula Abdul's 1995 album Crazy in Love unless she made a cleaner version. The original video showed the singer rubbing against a cane, pole dancing and pouring a bottle of beer over her chest while riding a mechanical bull. (Gasp!) Abdul eventually made the changes and the single peaked at #58 on the Billboard Hot 100 and was a hit on the dance charts and in gay clubs.
"Dirrty" by Christina Aguilera
Although quite heteronormative by today's standards, Christina Aguilera's ode to sex and debauchery played on nonstop rotation in every gay bar in late 2001 and early from 2002. The accompanying music video celebrating sexual fetishes sparked a firestorm, receiving the return of Pearl-hugging conservatives as well as several of the singer's peers, including Shakira, Kelly Osbourne and Jessica Simpson. It was also boycotted in Thailand, randomly.
"Justify My Love" by Madonna
Of course, we couldn't make a list of banned clips and not include at least one from Madonna. Apparently, the singer walking down a gritty hotel hallway, looking tired after a long day at work, then seduced by a mysterious man and woman was too hot for MTV in 1990. The video was banned, which caused pushed Madonna to release it on VHS. Single. It ended up becoming the first-ever short-form music video to be certified multi-platinum by the RIAA and remains the best-selling video single of all time with nearly one million copies sold.