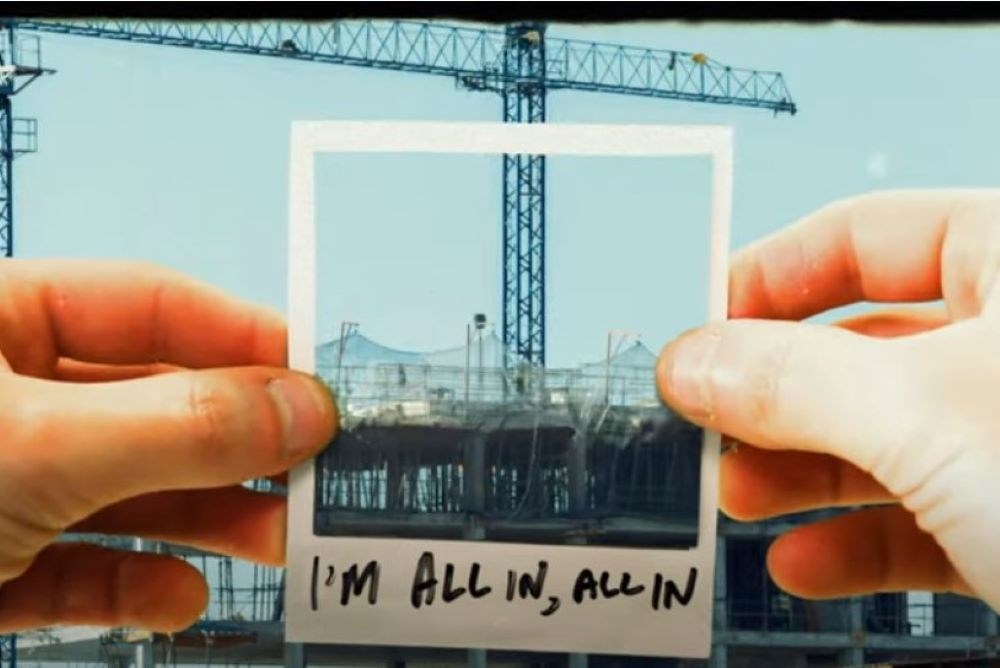 3 albums, 2 music videos and Hockey Night in Canada
Local band The Northwest have been performing since forming in 2013, but their latest release validates the phrase 'third time is the charm'
The Northwest is a 5 piece band from Sault consisting of Wayne Watkins on vocals/guitar, Mike Yakasovich (also sometimes known as Yak) on guitar/vocals, Greg Callaghan on guitar/vocals and (man about town – no, we didn't ask), Mike Smykacz on bass and Marc Santos on drums.
With two albums under their belt, the band recently released their latest single, Long hair (longer nights) from their forthcoming third EP, All-in.
The lyrics of the first single signal an anthemic, upbeat and positive sound that has been noticed by the likes of Hockey Night in Canada.
"The world is burning and at this point it's hard to contain
Emotions run high and we are all looking for a better day"
And a better day has come.
"We were watching the Leafs last week and we heard it during the game. "Long Hair (Longer Nights)" was played to Leafs music between whistles. The day after 'Long Hair (Longer Nights)' was released, it was also featured on Hockey Night in Canada for the Edmonton and Vancouver games," says Watkins.
"Those are really cool times for us."
For a band that describes itself as "rock from the heart with a bit of Canadiana and a lot of riffs," the recent exposure is a big deal.
It's a hit that came out of an uncertain period over the past few years, with their album being written in the midst of the pandemic.
"It posed challenges because coming together to write and rehearse depended on the lockdown situation that was happening," says Mike Yakasovich.
"Lots of voice memos were sent back and forth and we really used cloud-based recording programs to demonstrate ideas when we couldn't get together."
Watkins notes that some of the songs the band worked on were demos dating back to 2019.
"I would spend time during the first lockdown and well everything from 2020 to 2021 really focused on strong melodies," he says.
The album was recorded at Unsalted Audio with Dustin Goodall and Bill Priddle in charge of engineering, mixing and production.
"It was a fantastic and professional experience working with them," says Yakasovich.
"The level of detail they put into the songs was amazing, there were a lot of long nights of recording instruments and vocals, but it was worth it in the end. The amount of attention and of patience they give to the artists is also remarkable, I don't think I've seen either of these guys once bored on the phone during the process, they were totally invested in the project.
Watkins accepts, while throwing a good-humored shot at Priddle.
"I only got mad at Bill three times, maybe four," he laughs.
"If I hadn't gotten mad at Bill, he wouldn't have done his job. It was a team approach.
The band members agree that although this is officially their third album, it feels like their first.
For them, the album captures all the elements that people who have seen them live would expect.
"It's fun, anthem and loud," Yakasovich laughs.
Watkins adds: "We are 'familiar' [in that we] we get a lot of different referrals. We are a rock band influenced by many other rock band subgenres with a touch of pop. I love pop hooks.
The first music video released from the album is for the single "Long Hair (Longer Nights)".
The video was produced with Two Point Productions, the film company of Jimmie Chiverelli and Zack Trunzo.
"Greg [Callaghan] had worked and starred in their shorts and it came at a time when we needed a music video and they had never done one before, so it was a first experience for everyone," says Watkins.
Callaghan further explains the connection to the video director team.
"Mike and I actually played in a band called Terminal with Jimmie and our friend Julie Myers about 15 years ago," he says.
"He's a guy who knows more about music and film than anyone else we know, so it seemed like a no-brainer to bring him and Zack on board. Having worked behind the scenes and in front of the camera on a couple of their projects, i knew they were running a tight ship while being the friendliest guys in the dang world, which is a rare balance to strike.
Thinking of a location for the video shoot of "Long Hair (Longer Nights)", Callaghan contacted Paul Coccimiglio of Coch's Corner on Queen Street.
"Coch's wasn't open to the public at the time, but he agreed to let us use the space," he says.
"The guy has always been solid like that and I think we all have great memories of good times at Coch's, both in the current location and when it was in the old Days Inn [now a Holiday Inn Express]. It's perfect for being able to shoot a video in a place to which they really have an attachment.
The group got together a team of friends and basically threw a filmed party.
"I think the results speak for themselves," Callaghan says, noting that the song had an intentionally upbeat and positive vibe.
"The song was written during the first lockdown and is about all the tension and anxiety that comes with it and the desire to break free.
The single's press release stated that the song was aimed at "all those people who have spent the last two years watching real rock and roll again from bar floors and stadium seats".
"It was almost our way of saying 'this will pass and we can reconnect with people,'" Callaghan says.
The group has also just released a second video for the song, "Shoreline".
"Andre Sowka [from the band Summersets, that also features Kalle Mattson] made this video," says Watkins.
"Really how it all happened was my love for Kalle's Summersets project. I loved the images and loved how the lyric videos came together and told the story of the song. So I contacted Kalle and needed the guy! Turns out it was Andrew, his bandmate.
For a band that considers itself a "live band" that needs that energy of a crowd to express itself, the lack of gigs was a challenge for The Northwest.
Fortunately, this situation is changing.
"Yes, there will be some exciting announcements soon," says Watkins.
The North West EP All-in will be officially released on June 10 and will be available on all expected streaming platforms.
Listen to The Northwest on their Apple Music or Spotify page.
Stay up to date on the group by following their Facebook, Bandcamp, Instagram, TicTok or Twitter pages.