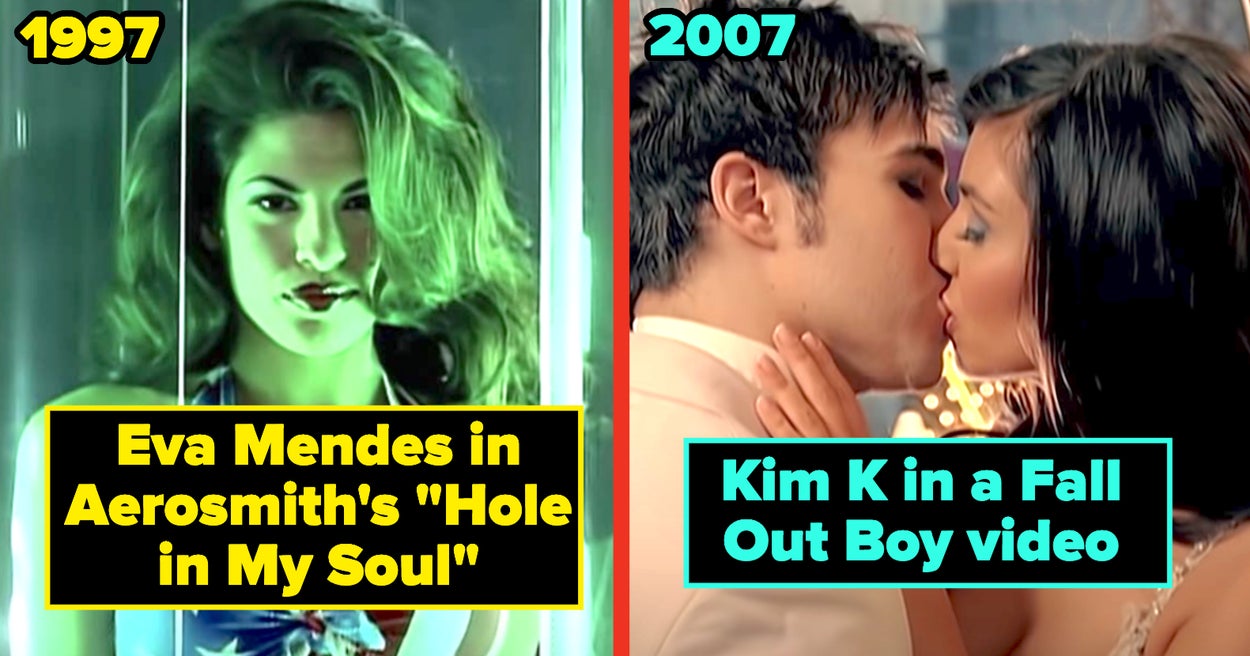 24 Celebrities In Music Videos Before They Were Mega Famous
I didn't know I needed to see red-haired Zooey Deschanel in a 90s pop punk music video until now.
1.
You probably know Taye Diggs from Lease, or Private Practice, or all american.
But her first role? He played a poker player in 2Pac's "Temptations" music video in 1995.
2.
Rosario Dawson had previously starred in Kids (her first role), but that was long before all of her iconic roles when she starred in her first music video.
It was 1999 and the music video was "Out of Control" by the Chemical Brothers.
3.
Matt LeBlanc's fame skyrocketed when he started acting in Friends… but it was not his first role.
He was in a few different music videos in the 90s, but I think my favorite has to star in Alanis Morissette's 1991 music video for her hit "Walk Away".
4.
Friends Costar Courteney Cox appeared in a major music video from the 80s.
It was, of course, Bruce Springsteen's 1984 "Dancing in the Dark" music video.
5.
Zooey Deschanel became an independent darling in 500 days of summer, but is perhaps best known for starring in the sitcom New girl.
However, long before that, Zooey starred in The Offspring's 'She's Got Issues' music video in 1999 – only her third role!
6.
Jeremy Renner is probably best known for his role as Hawkeye in the avengers movies (and now TV show), as well as her role in the award-winning film The Hurt Locker.
Well, before all that, he appeared in P!nk's 2003 music video for "Trouble."
7.
We all know Marvel star Sebastian Stan is an idol, but I only recently learned that he's been an idol for a very long time.
He starred in Hayden Panettiere's music video for his song "Wake Up Call" in 2008. That was three years before he played Bucky Barnes – although he had appeared on Gossip Girl twice for brief appearances.
8.
Alexander Skarsgård is now a critically acclaimed actor, but back when he was filming the first season of true blood – the role that would make him famous – he accepted a role in a strange music video with a new artist.
The artist was Lady Gaga and the music video was "Paparazzi" from 2009.
9.
Robert Downey Jr. has been famous for decades, but I always mention him here because it was before his Iron Man– level super renown.
The retro music video he was in is "I Want Love" by Elton John. Rather "I Want Love 3000", amirite?
ten.
Maybe not a big star, but still – you probably know the face of Timothy Granaderos Jr. from 13 reasons why.
Years before, he played a wink-and-miss-you role in Selena Gomez's 2011 "Love You Like a Love Song" video. It was his first role.
11.
x-men Actor Lucas Till has a very long CV – it's almost impossible you've never seen him on screen, even if you don't immediately recognize him.
Let me refresh your memory – in 2009 he appeared in Taylor Swift's iconic music video for 'You Belong with Me'.
12.
Miranda Kerr was already a successful model in 2006, but she didn't achieve stardom until she became a Victoria's Secret Angel in 2007.
A year prior, she appeared in the music video for "Number One" by Pharrell ft. Kanye West.
13.
Kim Kardashian is one of the most recognizable faces in the world today.
But that wasn't the case in 2007, when her reality show had just started. In fact, you might even have missed her in the Fall Out Boy music video for "Thnks fr th Mmrs".
14.
Angelina Jolie is another SUPER recognizable face – but that wasn't the case in the early 90s.
His second role, in 1991, was in Antonello Venditti's music video for "Alta marea".
15.
It's hard to avoid Chrissy Teigen now, but she wasn't always so famous.
She was a successful model, but not as famous as she is now, when she starred in John Legend's "Stereo" music video in 2007. Of course, the two met on set and ended up by getting married and raising a beautiful family.
16.
Evan Rachel Wood is famous for so many movies and shows, most recently Westworld.
But long ago, she also appeared in Green Day's 2005 music video for "Wake Me Up When September Ends." (Okay, that's two years after her role in Thirteenbut that was so long ago and before his mega-stardom that I still count!)
17.
Ana de Armas recently starred alongside then-boyfriend Ben Affleck in the film deep waters, as well as appearing in major blockbusters No time to die, blade runner 2049, and Knives out over the past five years, catapulting her into stardom.
But a long time ago, she was in the music video for the Sidecars' song "Mundo Fragil" in 2009.
18.
Eva Mendes is known for her many television and film roles (and her marriage to Ryan Gosling), but she was also in several music videos at the time.
The second was in 1997, for Aerosmith's "Hole in My Soul".
19.
Another Aerosmith darling was Alicia Silverstone, best known for her role in 1995's Distraught.
She appeared in four Aerosmith music videos before her starring role in clueless. The first was 1993's "Cryin'".
20.
Most of the examples on this list are music video stars as young adults, but Labyrinth Star Jennifer Connelly was still a child in her first role in a music video.
The video — which was also his first acting role overall — was Duran Duran's "Union of the Snake." It was 1983 and Jennifer would have been around 12 at the time of filming.
21.
Zach Galifianakis rose to fame in 2009 The Hangover.
But before that, in 2005, he was in Fiona Apple's "Not About Love" music video.
22.
Bobby Moynihan is a famous comedian and actor who has been on SNL for almost a decade.
But when Bobby Moynihan was in his first season of SNL as a featured player, he starred as the love interest in Colbie Caillat's 2009 hit "Fallin' for You".
23.
Emergencies, Love, Victor, and Divergent Actor Mekhi Phifer has definitely made the rounds — he's got a ton of roles and credits.
But some of his earliest roles were in 90s music videos. These include En Vogue's 'Don't Let Go (Love)' and Keith Sweat's 'Nobody' – but the most iconic is 'The Boy Is Mine'. " from Brandy and Monica from 1998.
24.
And finally, you probably know Adrian Grenier from Surroundings or like the annoying boyfriend of The devil wears Prada.
But even before those roles, he had a bigger one — in Britney Spears' "(You Drive Me) Crazy" music video in 1999.